Mangle Di Kulfi, Old Railway Road, Gurgaon
 Overview
Mangle Di Kulfi, was started in 1950 by Mangoriya Ram (Manga) with a small road side ice-cream stall to fulfill the needs of his family. The era where no one have thought of ice-cream at that time Mr. Mangoriya have introduced this desert for the people to enjoy their life. As years passed his kulfi's (ice cream) got famous and this made him grow his business and turn the stall in a dessert parlor. Times changed, year got changed, fashion got changed but the taste of this dessert corner is the same. This business of ice-cream parlor was taken care by his sons and now his grandson is looking after the family business. He says that they are never going to stop running the business instead they will take it to new levels. He also told how they had to see many ups and downs in their road to such a growth but they didn't compromised with the taste or quality of the dessert, the only thing that changed is the new variety in flavors of the desert.
The small business that started 7 decades ago on the roads of New Colony, Gurugram is now famous in many states of India. The dessert is very famous in corporate companies also and is also served in many companies on various occasions.
What Will You Find?
As we all know that old is gold same theory applied with this ice-cream parlor, the perfect place for people with a sweet tooth. This place serves large variety of kulfi's and faluda's. Nice place to chill out in summers. Black cone with Swiss choco is a-love for all the dark chocolate lovers. Chocolate brownie is a must try at this place. The best things which we found here are as follows:
Token system.
Service is fast.
Staff members are very polite.
Perfect Sitting arrangements.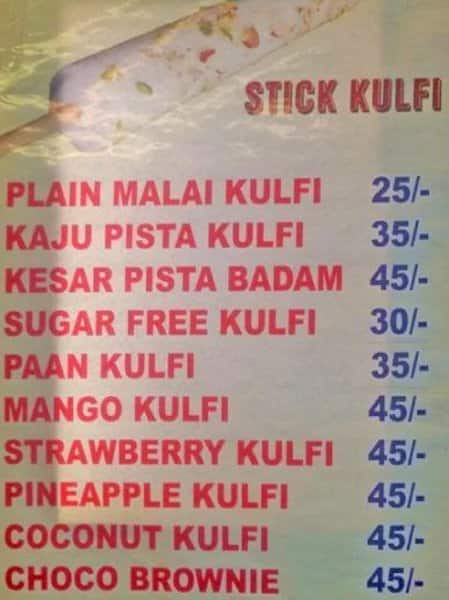 We recommend everyone to visit here.
Address
Where: 154-B, New Colony Road, New Colony, Old Railway Road, Gurgaon
Phone: 0124-4101101